The name Albion comes from the Albion Hotel built by Thomas Hayseldon (also wri…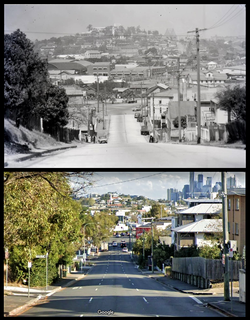 The name Albion comes from the Albion Hotel built by Thomas Hayseldon (also written as Hazeldon) in 1864, which was so called because the white wall of John Petrie's quarry reminded Hayseldon of England's white
cliffs (Albion being an old name for England, from the Latin 'albus' meaning white).
The name Breakfast Creek comes from Breakfast Point, which was a rocky point on the downstream side of the creek that was named by explorer John Oxley during his 1823 exploration of the Brisbane River.
Contains archive photos courtesy of John Oxley Library, State Library Qld.